Customers give BIBUS METALS GmbH an excellent certificate
A customer satisfaction survey, conducted this year, shows a very high level of customer satisfaction with BIBUS METALS GmbH: In the survey, the approval rating for the family business is 9.22 out of 10 points. In particular, customers rate the areas of recommendation, competence, and availability of sales staff above average.
Equally important to customers are the areas of portfolio, packaging, and product delivery. Again, there are good to very good grades, as well as the processing time of the inquiries. The survey was conducted anonymously by a neutral service provider for the first time this year.
Managing Director Klaus Bökels explains the good performance: "Customer trust is our motivation. You don't have to be bad to want to get better, the results of the survey are extremely pleasing".
Bökels continues: "BIBUS METALS GmbH has only one goal: to deliver the right product in high quality to its international costumers on the promised date. This is also shown by the results of the customer satisfaction survey."
BIBUS METALS GmbH, which belongs to the Swiss BIBUS-Group, is a trading company specializing in high-performance materials. For this purpose, BIBUS METALS has one of the largest stocks of sheets, bars and tubes in nickel and nickel-based alloys in this segment in Europe. Their costumers come from demanding industries such as chemicals, petrochemicals, thermal processes, offshore or automotive.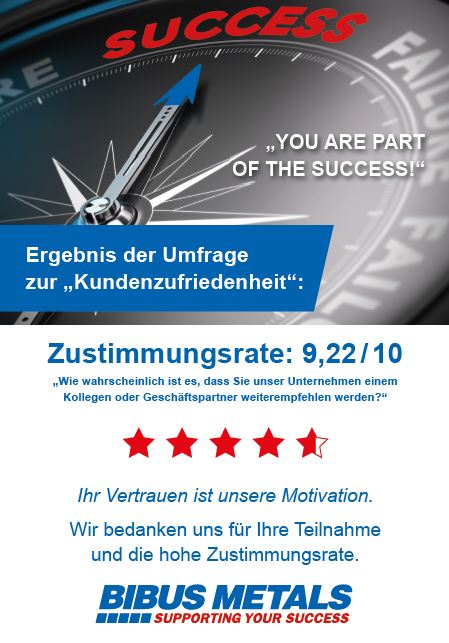 BIBUS METALS GmbH at the Valve World Expo 2022: Booth 1 A 75.